| | | |
| --- | --- | --- |
| Rules to include it on your site | | |
If you'd like to include a link to download MP3s' Utilities (or any of its components) you should ask for my permission (by email) to do it so. Anyway, there are many rules that you should bear in mind before asking for permission, because if you don't agree with any of them, just don't waste your time asking:
You should not include any link to my email address at all. I am tired of SPAM, and am trying to do my best to exclude my email address from any spider, or robot who might harvest my address from internet. Since most of the sites do not know how to achieve this, my email address should not be included in your download pages. If you'd like you can include a link to the folowing page to let your visitors contact me:




You cannot include any link to download the file to the zip file itself (from my website). If you'd like to download the latest version from my website, use the links provided to do so. Bear in mind that some of those links are updates for the applications. Do not use these links unless you want to provide your visitors the update files. However, do not link to the update's zip directly, but to the links my download page shows. The reason for this is because the name of the zip file might change periodically.
You can also use any of the banners which are published in the following section as well.
| | | |
| --- | --- | --- |
| Banners | | |
If you like MP3 Organizer then why not help let others know about it. Anyway, you shall not wait any kind of remuneration. However, I'd love to know that you've decided to do it... so, if you add it, so that I can have a look at your site as well.

Simply follow the steps below to link to MP3 Organizer's from your own web site: -
Choose the button or banner that you want on your site from the ones below

Highlight the code below the button or banner

Copy the code (Right mouse click choose copy, or Ctrl C)

Open your web page in a text editor

Paste the code into your web page where you would like the button or banner to appear (Right mouse click choose Paste, or Ctrl V). Note: If you're using an HTML editor, be sure to use 'Paste as HTML'.

Save your updated web page
468x60

<!-- Start MP3 Organizer's Link Code -->
<a href="http://emilianomartin.com.ar/MP3Organizer/" target="_blank">
<img src="http://emilianomartin.com.ar/Images/Banner-1.gif"
width="468" height="60" border="0" alt="MP3 Organizer"></a>
<!-- End MP3 Organizer's Link Code -->

450x158
<!-- Start MP3 Organizer's Link Code -->
<a href="http://emilianomartin.com.ar/MP3Organizer/" target="_blank">
<img src="http://emilianomartin.com.ar/Images/MP3%27s%20Banner.gif"
width="450" height="148" border="0" alt="MP3 Organizer"></a>
<!-- End MP3 Organizer's Link Code -->


<!-- Start MP3 Organizer's Link Code -->
<a href="http://emilianomartin.com.ar/MP3Organizer/" target="_blank">
<img src="http://emilianomartin.com.ar/Images/MP3%20Browser%20Banner.gif"
width="450" height="148" border="0" alt="MP3 Organizer"></a>
<!-- End MP3 Organizer's Link Code -->

222x148
<!-- Start MP3 Organizer's Link Code -->
<a href="http://emilianomartin.com.ar/MP3Organizer/" target="_blank">
<img src="http://emilianomartin.com.ar/Images/MP3NoDesc.gif"
width="222" height="148" border="0" alt="MP3 Organizer"></a>
<!-- End MP3 Organizer's Link Code -->

450x100

<!-- Start MP3 Organizer's Link Code -->
<a href="http://emilianomartin.com.ar/MP3Organizer/" target="_blank">
<img src="http://emilianomartin.com.ar/Images/MediumBanner.gif"
width="450" height="100" border="0" alt="MP3 Organizer"></a>
<!-- End MP3 Organizer's Link Code -->

250x100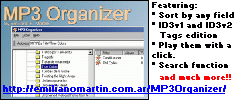 <!-- Start MP3 Organizer's Link Code -->
<a href="http://emilianomartin.com.ar/MP3Organizer/" target="_blank">
<img src="http://emilianomartin.com.ar/Images/Mini-Banner.gif"
width="250" height="100" border="0" alt="MP3 Organizer"></a>
<!-- End MP3 Organizer's Link Code -->

149x100

<!-- Start MP3 Organizer's Link Code -->
<a href="http://emilianomartin.com.ar/MP3Organizer/" target="_blank">
<img src="http://emilianomartin.com.ar/Images/MiniBannerNoDesc.gif"
width="149" height="100" border="0" alt="MP3 Organizer"></a>
<!-- End MP3 Organizer's Link Code -->

© Ing. Emiliano F. Martin. All rights reserved. | Design:
HTML5 UP